🇦🇺 Click on Picture Gallery to view all pictures of Part 5 –> and there are a lot because a lot has happened.
To see the travel map please click on the >MAP LINK< –>red Line travelled, green line planned
🇩🇪 bitte auf Bildergalerie klicken um alle Bilder von Teil 5 zu sehen –> es gibt viele, denn es ist viel passiert
Um die Reisekarte zu sehen, bitte auf diesen >MAP LINK< klicken –> rote Linie = bereits gefahren, grüne Linie = grobe Planung
🇦🇺 Stop 15 was Windjana Gorge. So we left beautiful Birdwood Station on Friday the 22nd July to commence The Gibb. The road became difficult for us very quickly and we had to stop to let the tyres down as the corrugation was just getting way to bad for our taste. Anyway, we made it and settled into the campground at the foot of the great gorge. We were very content until a Britz van with a couple of swiss tourists plus their kids rocked up and parked themselves 1 m away. We were surprised they did not tie their tent robes onto our van. All in all, a lovely campground, met a nice couple from Melbourne who gave us pointers on Kakadu NP. Thoroughly enjoyed our stay.
🇩🇪 Stop 15 war die Windjana-Schlucht. Am Freitag, den 22. Juli haben wir die wunderschöne Birdwood Station verlassen um die Gibb zu fahren. Die Straße wurde sehr schnell schwierig für uns und wir mussten anhalten, um die Reifen herunterzulassen, da die Wellung für unseren Geschmack einfach zu schlecht wurde. Jedenfalls haben wir es geschafft und uns auf dem Campingplatz am Fuße der großen Schlucht niedergelassen. Wir waren sehr zufrieden, bis ein Britz-Van mit ein paar Schweizer Touristen und ihren Kindern auftauchte und sich 1 m entfernt einparkte. Wir waren überrascht, dass sie ihre Zeltseile nicht an unseren Van gebunden hatten, so nahe standen sie. Alles in allem ein schöner Campingplatz, haben ein nettes Paar aus Melbourne getroffen, die uns Tipps zum Kakadu NP gab. Wir haben unseren Aufenthalt sehr genossen.
🇦🇺 We stayed at Windjana Gorge campground for 2 nights which gave us a chance to do the famous Tunnel Creek walk. Tunnel Creek is only 36 km further on the dirt road, so off we go totally prepared with proper shoes, hats and lots of water in the back back. Preparation is everything. And that is until you arrive at Tunnel Creek and walk the river bed instead of the actual cave, turn around because you think its wrong and then realise, yes, you have to climb through a hole in the rocks, through water (with your sneakers and socks) only to find out that you should have brought a torch to bring some light to the tunnel. Typical tourists we were. But we had heaps of fun.
🇩🇪 Wir waren für 2 Nächte auf dem Campingplatz Windjana Gorge, was uns die Möglichkeit gab, den berühmten Tunnel Creek Walk zu machen. Tunnel Creek ist nur 36 km weiter auf der unbefestigten Straße, also fahren wir komplett vorbereitet mit ordentlichen Schuhen, Hüten und viel Wasser im Rucksack los. Vorbereitung ist alles. Und es ist alles gut, bis man am Tunnel Creek ankommt und das Flussbett statt der eigentlichen Höhle entlanggeht, umdrehen muss, weil man sich schon denken kann, dass es der falsche Weg ist, und dann feststellt, ja, man muss durch ein Loch in den Felsen klettern, durch Wasser (mit Turnschuhen und Socken) waden, nur um herauszufinden, dass man eine Taschenlampe hätten mitbringen sollen, um etwas Licht in den Tunnel zu bringen. Wir waren echt typische Touristen. Aber es hat eine Menge Spass gemacht.
🇦🇺 Stop 16 was planned at Silent Grove which is very close to the Bell Gorge on the Gibb River Road. Well, what a place where destiny has led us to meet the Pettigrove Family from Nannup. I will explain later, in a separate post, what has led to this chance meeting and what has developed because it is more then worthy its own story.
🇩🇪 Stop 16 war in Silent Grove geplant, das ganz in der Nähe der Bell Gorge an der Gibb River Road liegt. Was für ein Ort, an dem uns das Schicksal dazu geführt hat, die Familie Pettigrove aus Nannup zu treffen. Was zu dieser zufälligen Begegnung geführt hat und was sich daraus entwickelt hat, erkläre ich später in einem separaten Beitrag, denn es ist mehr als eine eigene Geschichte wert.
🇦🇺 On Route to Manning Gorge Campground we had to prepare and protect the van more and more against the red dust on the Gibb River Road who really honoured its reputation for being a tough road. In our opinion, the part of the road just before and just after Mt Barnett Roadhouse and the grey gravel surface was one of the worst.
🇩🇪 Auf dem Weg zum Manning Gorge Campground mussten wir den Van immer mehr präparieren und gegen den roten Staub auf der Gibb River Road schützen, die ihrem Ruf als härteste Straße alle Ehre machte. Unserer Meinung nach war der Teil der Straße kurz vor und kurz nach Mt Barnett Roadhouse mit der grauen Schotteroberfläche einer der schlimmsten.
🇦🇺 17. Stop Manning Gorge Campground behind Mt. Barnett Roadhouse (which, by the way, closes at 3 pm on weekdays and 1 pm on weekends), This is a privately owned campground in a bush setting and we stayed 2 nights in order to recover from the horrible drive who shook us and our vehicles to the core. We just needed a break and after walking this beautiful gorge (which was more a climb then a walk) our bodies also needed to relax a bit. Oh and did I mention in order to walk the gorge, you have to cross the water first either by swimming or by taking the little green boat to pull yourself over only to find that there are no markers to show the way so one has to wait for other tourists who have been or are coming back to be shown the white dots to follow. Check out the videos in the picture gallery, very funny.
🇩🇪 17. Stop Manning Gorge Campground hinter dem Mt. Barnett Roadhouse (das übrigens wochentags um 15:00 Uhr und am Wochenende um 13:00 Uhr schließt) Dies ist ein Campingplatz in Privatbesitz in einer Buschlandschaft und wir blieben 2 Nächte, um uns von der schrecklichen Fahrt zu erholen , die uns und unsere Fahrzeuge bis ins Mark durchschüttelte. Wir brauchten einfach eine Pause und nachdem wir durch diese wunderschöne Schlucht gewandert waren (die eher ein Aufstieg als ein Spaziergang war), brauchten auch unsere Körper etwas Entspannung. Oh, und habe ich schon erwähnt, dass man, um durch die Schlucht zu gehen, zuerst das Wasser überqueren muss, entweder schwimmend oder mit dem kleinen grünen Boot um sich selbst hinüberzuziehen, nur um festzustellen, dass es keine Markierungen gibt, die den Weg weisen, also muss man auf andere Touristen warten, die vom Walk zurückkommen und einem die weißen Punkte zeigen, denen man folgen muss. Schauen Sie sich die Videos in der Bildergalerie an, sehr lustig.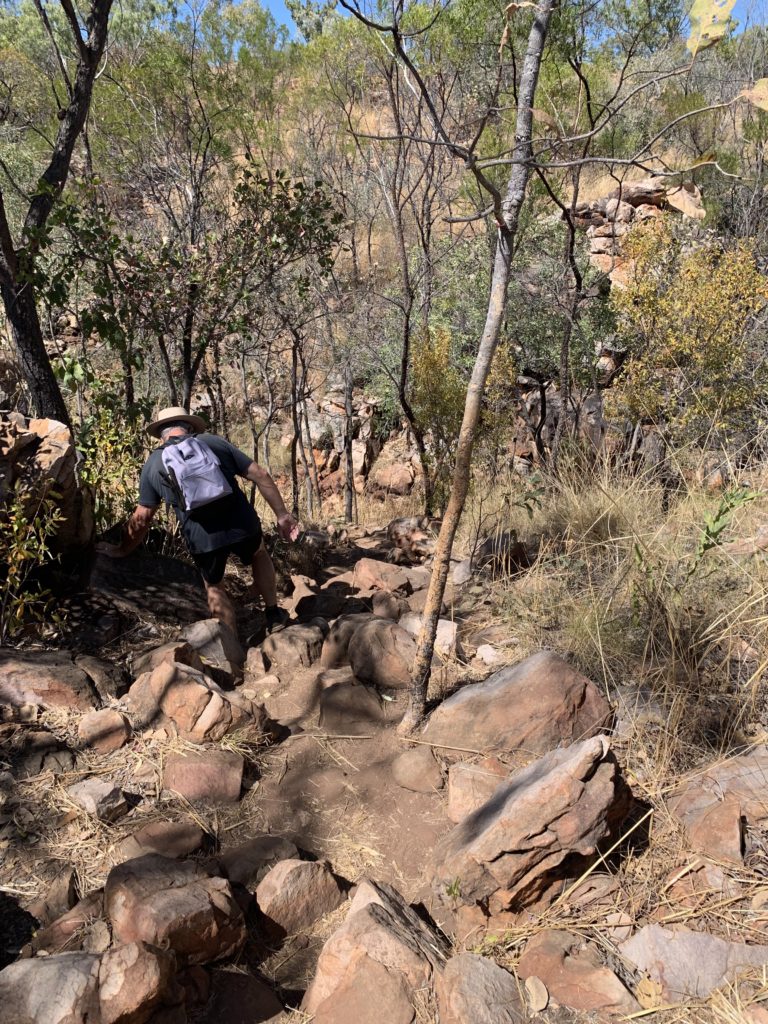 🇦🇺 18. Stop (Ellenbrae Station) coming up and Oh boy, being tourists again. After recuperating and a couple of days of recovery we were full of energy and ready to tackle our next stage on the Gibb, planning to stay at Gibb River Station (Ngallagnda). Great reviews on Wikicamps so off we went. More corrugated road, more dust, passing Hann River Crossing (should have stayed there) and to the Gibb River Station, only to find it was closed for the season. Great, we left Mt. Barnett without water in the tank (another rookie mistake) because the line at the waterhose was so long. We drove in to the station anyways finding a nice Drover boy who was kind enough to let us fill the tanks, Telstra reception so we could let family know what was happening and off we go, back on the Gibb towards Ellenbrae Station for the night, arriving there after 6 hours on the road for only 200 km. Previous recovery gone.
🇩🇪 18. Stop (Ellenbrae Station) kommt nun und Oh Mann, wieder waren wir reine Touristen. Nach der Erholung waren wir voller Energie und bereit, unsere nächste Etappe auf der Gibb River Road in Angriff zu nehmen, wobei wir planten, an der Gibb River Station (Ngallagnda) zu übernachten. Tolle Kritiken auf Wikicamps, also machten wir uns auf den Weg. Mehr Wellblechstrasse, mehr Staub, vorbei an Hann River Crossing (hätte dort bleiben sollen) und zur Gibb River Station, nur um festzustellen, dass sie für die Saison geschlossen war. Toll, wir haben Mt. Barnett ohne Wasser im Tank verlassen (wieder ein Anfängerfehler), weil die Schlange am Wasserschlauch so lang war. Wir fuhren trotzdem zur Station (Farm) und fanden einen netten Drover-Jungen (Rinderhirte), der so freundlich war, uns die Tanks füllen zu lassen, Telstra-Empfang hatten wir auch, damit wir die Familie wissen lassen konnten, was los war, und los ging es, zurück auf der Gibb in Richtung Ellenbrae Station für die Nacht. Ankunft dort nach 6 Stunden Fahrzeit für 200 km!. Vorherige Erholung und Entspannung komplett weg.
🇦🇺 19. Stop at El Questro Station and the End of the Gibb River Road. We were so much looking forward to that also because we could catch up with our friends, the Pettigrove Family (separate story). We did not book here even though it is a tourist stronghold. However, after driving through the deep water crossing with our van just before the station entrance, we got a site in the Overflow Section. We set up camp right next to the main path into the Caravan Park and because it was so dusty, we moved to the opposite side the next day and stayed for 6 nights all up. Had a lovely date night at the Steakhouse, enjoyed the Cantina Pizza and Sweet Potato Fries, caught up with our friends who took us to El Questro Gorge because their car has a snorkel where ours has not and the water crossing is about 800 mm deep. We had such a great day and in general a great time at El Questro. Zebedee Hot Springs were a bit disappointing because it was absolutely overcrowded with families and bus loads of tourists. Great cruise at the Chamberlain Gorge. Spoke a lot with other travellers and exchanged anecdotes and information.
🇩🇪 19. Stop war El Questro Station und das Ende der Gibb River Road. Darauf haben wir uns auch deshalb sehr gefreut, weil wir uns mit unseren Freunden, der Familie Pettigrove, treffen konnten (separate Geschichte). Wir haben hier nicht gebucht, obwohl es eine Touristenhochburg ist. Nachdem wir jedoch kurz vor dem Farmtor und damit dem Eingang, mit unserem Van durch die tiefe Wasserquerung gefahren waren, bekamen wir einen Platz in der Ausweichsektion. Wir schlugen unser Lager direkt neben dem Hauptweg auf und weil es so staubig war, zogen wir am nächsten Tag auf die gegenüberliegende Seite und blieben insgesamt 6 Nächte. Wir verbrachten einen schönen Abend im Steakhouse, genossen die Cantina Pizza und Sweet Potato Fries für mehrere Tage und trafen uns mit unseren Freunden. Diese brachten uns auch zur El Questro-Schlucht, weil ihr Auto einen Schnorchel hat und unseres leider nicht und die Wasserdurchquerung zur Schlucht hin etwa 800 mm tief ist. Wir hatten so einen tollen Tag und im Allgemeinen eine tolle Zeit im El Questro. Zebedee Hot Springs waren ein bisschen enttäuschend, weil es mit Familien und Busladungen von Touristen absolut überfüllt war. Tolle Bootsfahrt in der Chamberlain Gorge. Haben viel mit anderen Reisenden gesprochen und Anekdoten und Informationen ausgetauscht.
🇦🇺 20. Stop Kununurra and the Kimberlyland Holiday Park for 2 Nights, urgently needed car and van wash plus the Landcruiser was booked in for a service. And most importantly pump up the tyres, we are BACK ON BITUMEN ROAD!! At this caravan park we also met Kay and Arch, fellow travellers with whom we had more then one interesting conversation. We met them again later at Lake Argyle. So in Kununurra, after the vehicle wash, we also needed supplies as the food was running out and no more sparkling water. Very difficult to get in Kununurra but we got everything sorted. Another catch up with our friends, the Pettigrove Family, and we were kind of proud to have survived and conquered the notorious Gibb River Road in Western Australia. For all the pics, videos and some more comments, head to the full Picture Gallery. Enjoy and we are looking forward to Part 6, Kununurra to Darwin via Kakadu National Park. Stay tuned.
🇩🇪 20. Stop Kununurra und der Kimberlyland Holiday Park für 2 Nächte, dringend benötigte Auto- und Wohnwagenwäsche plus der Landcruiser wurde für einen Service eingebucht. Und vor allem: Reifen aufpumpen, wir sind WIEDER AUF DER ASPHALTSTRASSE!! Auf diesem Caravan Park trafen wir auch Kay und Arch, Australien Reisende, mit denen wir mehr als ein interessantes Gespräch hatten. Wir trafen sie später am Lake Argyle wieder. Wir brauchten in Kununurra, nach der Fahrzeugwäsche, auch Nachschub, da das Essen zu Neige ging und kein Sprudelwasser mehr da war. Sehr schwer in Kununurra zu bekommen, aber wir haben alles organisieren können. Ein weiteres Treffen mit unseren Freunden, der Familie Pettigrove, und wir waren ziemlich stolz darauf, die berüchtigte Gibb River Road in Westaustralien überlebt und bezwungen zu haben. Alle Bilder, Videos und einige weitere Kommentare findet Ihr in der vollständigen Bildergalerie. Viel Spaß und wir freuen uns auf Teil 6, Kununurra nach Darwin über den Kakadu-Nationalpark. Bleibt dran.