🇦🇺 First of all, the Picture Gallery, complete with comments and uncensored pictures of our adventures, craziness and happenings
This is followed by the travel map >MAP LINK< from where you can see, that we are nearly finished and approaching the Home stretch, well approx. 3,000 km to go, thereabouts.
🇩🇪 Zu allererst, die Bildergalerie, komplett mit Kommentaren und unzensierten Bilder von unseren Abenteuer, Verrücktheit und Happenings.
Dies ist gefolgt von unserer Reisekarte auf >MAP LINK< und man kann sehen, dass wir fast rund sind und uns Richtung Heimat bewegen, nun ja, noch ca. 3000 km, da so rum.
🇦🇺 57. will be the next Stop behind the Terminus Hotel in Marulan after we left Fingal Bay and we are heading further south, trying to get out of these flood areas which is very difficult. Trying to bypass Sydney, not wanting to go over the bridge, we decided to try the NorthConnex Tunnel, following a recommendation from a fellow traveller. Great choice driving wise but we paid $70 in 5 minutes in Toll Fees. Lesson learnt. The roads in NSW are more then shocking and extremely dangerous in our eyes and with all that Toll Money, surely they could fix at least some of them. Not too worry off we went. Had a look at a couple of more option for Overnighters but one was a shocker run down Rest Area where the entry was so hard to find that even the council did not come to clean the bins and the other one was supposedly a caravan park which smelled like a smokers bar with a barmaid that was not even willing to look at one let alone give one a site to stay. Needless to say we left and thank God we did, otherwise we would not have stayed in Marulan.
🇩🇪 Stop #57 war hinter dem Terminus Hotel in Marulan, nachdem wir Fingal Bay verlassen haben und weiter Richtung Süden fuhren. Wir haben versucht diese Flutgebiete zu verlassen, was sehr schwierig war. Wir wollten um Sydney rumfahren und nicht unbedingt über die Brücke also haben wir uns für den NorthConnex Tunnel entschieden, nachdem uns dies von anderen Campern vorgeschlagen wurde. Super Wahl, allerdings mussten wir dadurch innerhalb von 5 Minuten $70 Maut bezahlen. Lektion gelernt. Die Strassen in NSW sind der Schocker und in unseren Augen sehr gefährlich. Mit diesem ganzen Geld von der Maut könnte man locker die Reparaturen bezahlen, auf jeden Fall grosse Teile reparieren. Naja, egal, also sind wir weiter. Wir haben uns noch mehrere Übernachtsmöglichkeiten angesehen, aber eine war ein total runtergekommener Rastplatz, wo die Einfahrt so schwer zu finden war, dass selbst die Strassenreinigung nicht kam um die Mülltonnen zu leeren und die andere sollte wohl ein Campingplatz sein, der in der Rezeption mehr wie eine Raucherkneipe roch, mit einer Bedienung, die einen noch nicht einmal angucken konnte, geschweige denn einen Platz vermieten wollte. Wir sind schnell weg und Gott sei Dank, denn ansonsten hätten wir nie an dem Pub angehalten und lecker Pizzabrot gegessen.
🇦🇺 58. The next day we were off to Canberra but not before we had a nice unhealthy fatty and so yummy breakfast at the local coffee shop. Priorities! So off to Canberra where we wanted our car checked out at Toyota because we had lost power up hill and the Transmission Oil Warning displayed and wanted to make sure all was ok. Canberra Park, where we stayed 3 Nights due to loosing our car for one day already and not being able to do any sightseeing, was the worst caravan park so far: see pic below
🇩🇪 58. Am nächsten Tag sind wir los nach Canberra (Hauptstadt von Australien), aber vorher hatten wir noch ein super leckeres, total ungesundes, fettiges Frühstück im lokalen Café. Prioritäten!! Also los nach Canberra, wo wir auch unser Auto nachgucken lassen wollten, da wir bergauf einen Kraftverlust festgestellt haben und auch eine Warnung wegen zu heißem Getriebeöl angezeigt wurde. Sicher ist sicher. Wir waren 3 Nächte auf dem Canberra Park Campingplatz, weil wir ja einen Tag durch das Auto verloren haben und uns nichts angucken konnten, aber dies war der schlimmste Campingplatz bis jetzt auf der ganzen Tour. Siehe Bilder unten:
🇦🇺 Concrete everywhere, no trees, no bushes, no birds. It was sterile and felt uncomfortable. Not a very nice experience at all. But Canberra was the burner! We really enjoyed it. The Floriade 2022 was on its last day and we got a bit overwhelmed with all the people attending with their dogs. It was free entry and therefore there were, what felt like, a Million people. So not our cup of tea. We got there by mistake because the Visitor Centre was right in the Middle of it which is where we wanted to go. Never mind, we made it in and out in one piece.
🇩🇪 überall war Beton, keine Bäume, keine Sträucher, keine Vögel. Es war steril und hat sich ungemütlich angefühlt. Die Floriade 2022 (sowas wie die Bundesgartenschau) hatte ihren letzten Tag und überall waren Menschen mit ihren Hunden, warum auch immer. Der Eintritt war umsonst, daher waren dort gefühlt eine Million Menschen. So gar nicht unser Ding. Wir waren ja auch nur zufällig dort, denn eigentlich wollten wir in das Besucherzentrum, was genau dort in der Mitte stand. Egal, wir sind in einem Stück wieder rausgekommen.
🇦🇺 The next day was lost to Toyota. We took our car there in the morning and they had it all day which left us to stay at the Caravan Park. At least we got a lift with a courtesy car and the guy really took good care of us. When we got the car back, they had checked it all and we got the all clear. Oh well, at least we had done the right thing.
By now it is October 18th and we have extended an extra day at that Caravan Park in order to do our sightseeing that we missed out on the day before. We had booked our slot for the War Memorial but had some time to kill so did Parliament House first. What a treat. It felt majestic and magnificent. Even just the underground car park was huge and well done, suitable for large and small rigs, even tour buses. Once inside the building one was allowed everywhere, no restrictions unless there was a room being used for official business. There was even a Coffee Shop and everybody from Security Guards over Police to the People working behind the desks, they were all super friendly and courteous. We were very impressed with the entire thing.
🇩🇪 der nächste Tag ging an Toyota verloren. Wir haben unser Auto zu Canberra Toyota gebracht und sie haben es den ganzen Tag behalten, daher mussten wir auf dem Campingplatz bleiben. Wenigstens haben sie uns hin und her gefahren und der Herr bei der Annahme hat sich echt gekümmert. Als wir unser Auto wiederbekamen, war alles gecheckt und für gut befunden. Nun ja, wenigstens haben wir das Richtige getan.
Es ist nun der 18. Oktober und wir haben den Campingplatz um einen Tag verlängert, damit wir den verpassten Erkundungstag in Canberra nachholen können. Wir hatten unseren Platz für das Kriegsmuseum gebucht, mussten aber noch etwas Zeit rumbringen, also sind wir in Parlament House. Was für ein Vergnügen!! Das war toll. Es hat sich majestätisch und prunkvoll angefühlt. Selbst die Tiefgarage war riesig und super gemacht. Selbst grosse Fahrzeuge und sogar Busse konnten dadurch fahren. Im Gebäude durfte man überall rumlaufen, keine Beschränkungen, es sei denn ein Büro wurde benutzt. Es gab sogar ein kleines Kaffee und jeder war super nett, alle Sicherheitsleute, Polizei und selbst die Leute hinter den Theken waren alle sehr freundlich und höflich. Wir waren total beeindruckt von der ganzen Anlage.
🇦🇺 Next was the War Memorial. This event totally took our breath away. It started with the enormous Avenue leading up to the Building on top of a small hill. Something like the Statue of Victory stood out in the middle of the Avenue. We parked at the underground carpark and made our way to the entrance. We were about 10 minutes early but they quickly changed out time slots and let us in. Before we knew what was happening we had two special tickets and were part of a free tour that just started. The most amazing two hours were spent listening to stories about the first and second World War, Australia's part of it, stories of different people of all ages participating in different ways during the war and the Lady who was telling these stories did it with a passion that one thought one was right there with them during Gallipoli. We were totally flashed, so much so that we got ourselves another time slot to wonder the Museum and Memorial by ourselves just to take it all in.
🇩🇪 Als nächstes war das Kriegsmuseum dran. Dieses Ereignis war atemberaubend. Es fing alles an mit einer riesigen Allee die zu dem Gebäude auf dem kleinen Hügel führte. So etwas wie die Siegessäule ragte aus der Strasse hervor. Wir haben in der Tiefgarage geparkt und gingen zum Eingang. Wir waren ca. 10 Minuten zu früh, aber man hat unsere Zeiten einfach geändert und wir kamen rein. Bevor wir wussten wie uns geschah hatten wir ein Ticket um den Hals und waren Teil einer Tour die gerade losging. Das waren die erstaunlichsten zwei Stunden überhaupt. Geschichten vom ersten und zweiten Weltkrieg, Australiens Anteil, Geschichten von verschiedenen Menschen aller Altersklassen, die irgendwie am und mit dem Krieg in Zusammenhang standen. Die Dame, die unsere Führung geleitet hat, erzählte alles mit so einer Hingabe, sodass es einem vorkam als wäre man live dabei. Wir waren total hingerissen, so sehr, dass wir unsere Zeit verlängern gelassen haben und nochmal alles auf eigene Faust erforscht haben. Es war unbeschreiblich.
🇦🇺 59. Leaving Canberra we headed towards Wagga Wagga via the town of Yass, where we refilled our gas bottle and got talking to an elderly gentleman who bought the old service station turning it into a repair shop for vintage motorcycles. Amongst them was a NSU motorcycle from Germany. He made the point that if he would not refurbish the old motorcycles, then eventually they would be lost. Food for thought. Our campsite for that part was Old Junee which was an old unused Recreation Ground, very overgrown and hardly visible from the road but once passed the gate, a sandy track lead towards the back and a larger area where plenty of campers would have found a place to sleep. Lucky for us, we were first and only two more came. Very peaceful.
🇩🇪 59. Nachdem wir Canberra verlassen hatten ging es Richtung Wagga Wagga über den Ort von Yass, wo wir unsere Gasflasche aufgefüllt haben und einen netten älteren Mann kennengelernt haben, der die alte lokale Tankstelle im Ort gekauft hat und dort alte Motorräder restauriert. Unter anderem hatte er auch ein deutsches NSU Motorrad dort. Er hatte den Standpunkt, dass wenn er diese Motorräder nicht restauriert, wird es kein Anderer tun und irgendwann sind sie alle verloren. Da muss man drüber nachdenken. Unsere Campsite für die Nacht war in Old Junee auf einem alten unbenutzten Freizeitgelände, total überwuchert und von der Strasse aus schwer einsehbar. Wenn man aber durch das offene Tor fuhr und auf dem sandigen Weg bis weiter nach hinten, kam man auf eine etwas größere Fläche, wo locker mehrere Camper Platz gehabt hätten, aber wir waren die Ersten und zwar kamen noch zwei andere, aber es war sehr friedlich.
🇦🇺 60. Our next Stop was just short of Griffith at Yenda Golf Club. We are always looking for alternatives to caravan parks and this was perfect again. A Donation of $10 got us a spot and since we got talking to Peter, the president of the Club, and his 74 year old friend John, whose family lived in Yenda for the past 100 years. Yenda itself is a nearly abandoned town, the local butcher closed its doors in May 2022 after 44 years due to retirement. Another business we read about closed down 41 years ago after 47 years of service. It is so sad to see the small country town dying. Having said that, Yenda is famous for its wine "Yellowtail" and we promptly got given one by Peter including a local beer. Donation well spent.
🇩🇪 60. Unser weiter Stop war kurz vor Griffith in Yenda auf dem Golfplatz. Wir suchen immer Alternativen zu Campingplätzen und dies war mal wieder perfect. Eine Spende von $10 hat uns den Platz gesichert und wir haben uns mit dem Präsident des Golf Clubs Peter und seinem Freund John unterhalten, der 74 Jahre alt ist und dessen Familie schon seit über 100 Jahren in der Gegend wohnt. Yenda selbst wirkt langsam aber sicher sehr verlassen, der lokale Metzger hat im Mai 2022 nach 44 Jahren seine Türen geschlossen und ist nun in Rente, ein anderes Geschäft hat bereits for 41 geschlossen und das nach 47 Geschäftsjahren. Im Gegenzug ist Yenda bekannt für seinen Wein "Yellowtail" und wir bekamen prompt eine Flasche geschenkt plus eine Flasche von dem lokalen Bier. Eine sehr gute Investition mit der Spende.
🇦🇺 #61 to Hay but Detour Madness followed first. Leaving Yenda via Griffith, small Detour due to Roadworks turned into a 4 hour nightmare, getting lost, taking a wrong turn, changing roads between gravel, sand, mud and more mud. The Caravan probably thought it was a sled sliding behind more then driving. First time we made a mistake was going straight when the sign said Detour to the left. Gravel vs Bitumen we went straight onto the bitumen only to turn the corner finding ourselves on the muddiest road ever with no way to turn. Head down and through. Finally found a spot to turn, breath and hoping the van would not slide into the ditch. It didn't, so back through the mud and onto gravel. First phew, continue on gravel, taking a wrong turn somewhere (we suspected the Detour Sign being lost in the Mud) so we ended up somewhere between fields of grain, taking roads to nowhere and ending up at a house. Finally, people to ask direction. WRONG, no one home. Enough room to turn, Oh Look, a shed with tractors. Drove into that road only to sink deeper into mud. Turned again and meanwhile no signal from Gina GPS. I made a video and uploaded it onto the video page. The full extend of our nightmare was not really captured but after a 4+ hour drive and over 100 km we finally hit bitumen, Gina GPS had found us again and we went to the first campground we could find. Funny enough, when we left Griffith, the GPS said 123 km to your target and after we drove the 100 km Detour into Nowhere, we still had 128 km to go to the same spot. Go figure
🇩🇪 #61 ist Hay aber zuerst folgte Detour Madness. Als wir Yenda über Griffith verließen, wurde ein kleiner Umweg aufgrund von Straßenarbeiten zu einem 4-stündigen Albtraum, wir verirrten uns, bogen falsch ab, die Straße wechselte andauernd zwischen Schotter, Sand, Schlamm und noch mehr Schlamm. Der Wohnwagen dachte wahrscheinlich, er sei ein Schlitten, der hinterher rutscht anstatt zu fahren. Das erste Mal als wir einen Fehler machten, fuhren wir geradeaus, anstatt dem Schild Umleitung nach links abzubiegen. Gravel vs Bitumen Wir fuhren lieber weiter auf dem Asphalt, nur um um die Ecke zu biegen und uns auf der schlammigsten Straße aller Zeiten wiederzufinden, ohne eine Möglichkeit zum Wenden. Kopf runter und durch. Endlich eine Stelle zum Wenden gefunden, Luft geholt und gehofft, dass der Van nicht in den Graben rutscht. Ist er nicht, also zurück durch den Schlamm und auf Schotter. Zuerst puh, weiter auf Schotter, irgendwo falsch abgebogen (wir vermuteten, dass das Umleitungsschild im Schlamm verloren gegangen war), also landeten wir irgendwo zwischen Getreidefeldern, nahmen Straßen ins Nirgendwo und endeten an einem Haus. Endlich konnten wir Menschen nach dem Weg fragen. FALSCH gedacht, niemand zu Hause. Genug Platz zum Wenden, oh guck, ein Schuppen mit Traktoren. In diese Straße reingefahren, nur um noch tiefer im Schlamm zu versinken. Wieder abgebogen und immernoch kein Signal von Gina GPS. Ich habe ein Video gemacht und es auf die Videoseite hochgeladen. Das volle Ausmaß unseres Albtraums wurde nicht wirklich erfasst, aber nach einer über 4-stündigen Fahrt und über 100 km trafen wir endlich auf Asphalt, Gina GPS hatte uns wieder gefunden und wir fuhren zum ersten Campingplatz, den wir finden konnten. Lustigerweise, als wir Griffith verließen, sagte das GPS 123 km bis zum Ziel und nachdem wir den 100 km langen Umweg ins Nirgendwo gefahren waren, hatten wir noch 128 km bis zum selben Punkt. Kann man besser nicht erfinden.
🇦🇺 62. was Balranald, where we needed an urgent car wash to get the mud of the car and the van. Luckily there was a Car Wash right on the corner when we arrived in town but it was still fenced off although there was a truck in there and the middle bay was empty. Turns out the Car Wash was fully functual and would go into operation the following week. But they were kind enough to open the fence and let us go through basically as a test run and we were the first caravan to go through. We got talking to the Family who owns the One Stop Wash in Town and they also told us about the RV parking across the road where we ended up camping for the night, watching a lights show that nature put on for us and we also ended up calling the police because it was a saturday night and some Teens threw some bottles and ran through the parking lot. Police came within 2 Minutes and after that it was all quiet.
🇩🇪 62. war Balranald, wo wir dringend das Auto waschen mussten um den ganzen Schlamm und Dreck loszuwerden. Glücklicherweise gab es an der Ecke am Ortseingang eine kleine Waschanlage, die allerdings noch eingezäunt war. Aber eine Bucht war frei und in der anderen Stand ein LKW. Es stellte sich bei Nachfrage heraus, dass die Waschanlage voll funktionstüchtig war und die folgende Woche in Betrieb gehen sollte. Netterweise hat man uns als Testobjekt genutzt und uns waschen lassen und wir waren der erste Wohnwagen, der dort gewaschen wurde. Wir haben uns etwas mit der Familie unterhalten und sie gaben uns auch den Tip zur Übernachtung auf dem RV Parkplatz gegenüber, wo wir auch übernachtet haben. Mutter Natur hat uns noch eine Lichtershow präsentiert und irgendwann haben wir auch die Polizei gerufen, weil es Samstag Abend war und irgendwelche Jugendliche auf dem Parkplatz randaliert haben. Die Polizei war innerhalb von zwei Minuten da und danach war alles ruhig.
🇦🇺 #63. This was a great Stop at the Big4 Loxton Riverfront Caravan Park. It was raining Cats and Dogs, a lot of Camping Spots we had selected were under water and were not passable. So Loxton it was. Unfortunately the Office was closed but upon calling the required number we were told the code for the gate, advised to find a spot and pay later. Said and done except for the payment part. Unfortunately we never met the host even though we sent our details through. But the next morning, the office was still closed so we left and they never contacted us for payment although they had all our details including Email and Phone Number. Go figure. Half the caravan park was under water anyways so they probably did not bother because it rained so much and just gave a save haven to the travellers. Thank you very much.
🇩🇪 #63. War eine super Übernachtung auf dem Big4 Loxton Riverfront Caravan Park. Es hat wie aus Eimern geregnet und viele Übernachtungsplätze die wir ausgesucht hatten waren unter Wasser und nicht passierbar. Also fuhren wir bis Loxton. Leider war das Büro geschlossen und nachdem wir die angewiesene Nummer angerufen haben wurde uns der Code für das Boomgate gegeben mit der Anweisung uns einen Platz zu suchen und am nächsten Morgen zu bezahlen. Leider kamen wir nie mit dem Host zusammen, denn das Büro war immernoch geschlossen. Also sind wir losgefahren und da wir all unsere Daten hinterlassen hatten, dachten wir man kontaktiert uns zur Bezahlung, aber nichts ist passiert. Der halbe Campingplatz war unter Wasser, vielleicht waren es einfach gute Samariter, die einen sicheren Platz für Camper zur Verfügung stellt. Vielen Dank.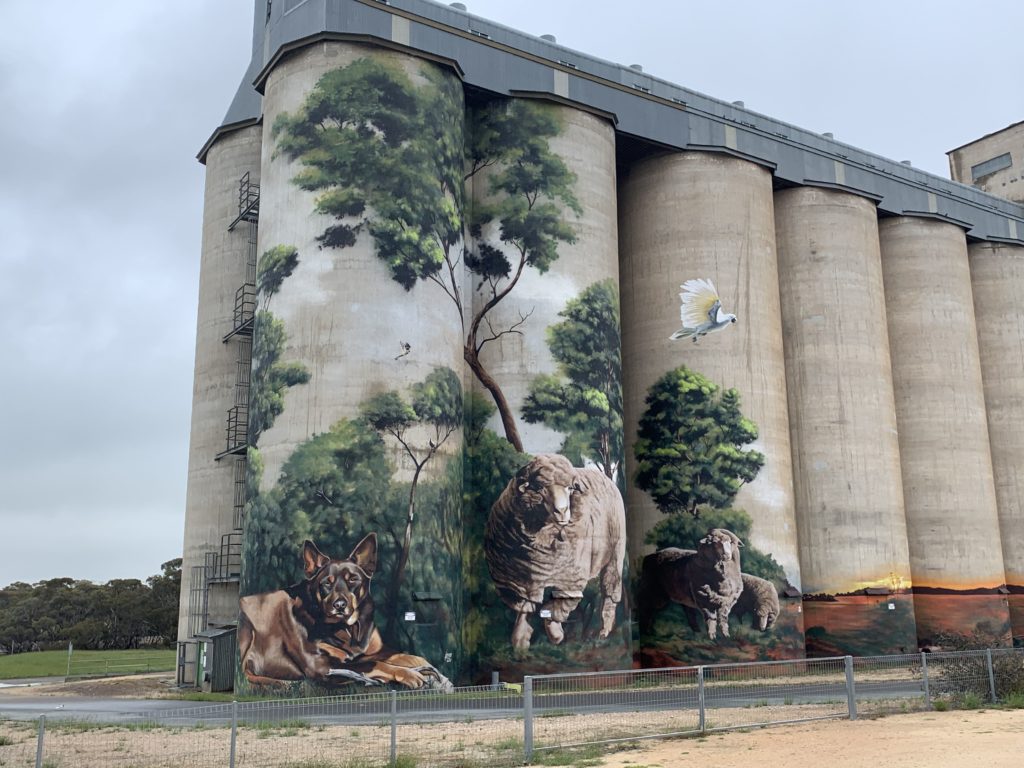 🇦🇺 64. we are in Hahndorf now, just short of Adelaide. Lots to do, lots to see. Unfortunately the weather is really bad and cold and although we had a chance to do some sightseeing yesterday, today was a van day, catching up on paperwork, Emails and updating the Website. Hahndorf is a great german style town and we bought yummy sausage and german food stuff, had a couple of really nice meals and thoroughly enjoyed this sweet little town. The highlight must have been visiting the Hans Heysen Gallery – The Cedars. A german local painter who has an amazing story and the family has opened up the premises to the public via a tour and it is like stepping back in time with the original furniture and the entire contents of the household still in place. Very eerie. Tomorrow we travel on to Adelaide, staying at the Showgrounds in order to do the town tour.
🇩🇪 64. Wir sind nun in Hahndorf, kurz vor Adelaide. Es gibt viel zu tun und zu sehen. Leider ist das Wetter sehr schlecht und kalt und obwohl wir gestern die Gelegenheit hatten uns einiges anzugucken, war heute leider ein Van Tag, was uns allerdings Zeit gab den Papierkram zu erledigen, Emails zu beantworten und die Website up-to-date zu halten. Hahndorf ist ein süßer kleiner Ort im deutschen Stil. Wir haben leckere Würste gekauft und andere deutsche Esswaren, waren mehrmals lecker Essen und hatten insgesamt sehr viel Spass hier. Der Höhepunkt war wohl der Besuch der Hans Heysen Gallerie – The Cedars. Er war ein deutschstämmiger Maler, der sich hier niedergelassen und seine Familie gegründet hat. Eine sehr interessante Geschichte und die Familie hat das Gelände und die Gebäude für die Öffentlichkeit geöffnet. Es gibt einem das Gefühl in die Vergangenheit zurück versetzt zu werden. Alles hat noch die original Möbel und komplette Einrichtung wie damals, als die Familie noch hier wohnte. Es war ein bisschen unheimlich. Morgen fahren wir weiter nach Adelaide, wo wir auf den Showgrounds eingebucht sind und von dort werden wir eine Stadtbesichtigung machen.