🇦🇺 Usual start, click on the full Picture Gallery for this part of the trip
and of course you can view the full travel map on >MAP LINK<
🇩🇪 Wie immer beginnen wir mit der vollen Bildergalerie
und natürlich die Reisekarte auf >MAP LINK<
🇦🇺 80. and we are on the Nullarbor, intending to stay at some free camps on the way but as faith played, we made it to Nullarbor Roadhouse. Leaving Ceduna, refreshed and ready to tackle the long drive home, we were looking forward to the scenery along the Eyre Highway and the many recommended spots along "The Bight". It did not disappoint. Whale Season was over unfortunately but the Lookouts were still worth the drive. The suggested campsite was a little too exposed for us so we kept driving on and ended up at the Nullarbor Roadhouse and we are so glad we did. Although Diesel here was the most expensive with $3.09/litre. So much to see, good dinner, very yummy at the Bar, talking to pilots who were travelling from Perth to Melbourne with 2-Seater planes. Looked a bit dodgy to me but hey, it was not his first trip. Fantastic Wall Art and the old Roadhouse totally brings across how hard times were in the olden days. Glad they left it all for future generations to get a real feel of what it was like back then.
🇩🇪 80. und wir sind auf der Nullarbor und wollten eigentlich an einigen freien Orten campen, aber wie das so ist, kamen wir an diesem Tag bis zum Nullarbor Roadhouse. Wir sind total erfrischt in Ceduna los und waren voller Energie die lange Fahrt über den Eyre Highway nach Hause anzutreten und uns die vielen angepriesenen Sachen anzugucken, die man wohl unbedingt sehen muss, wenn man "den Bight" fährt. Wir wurden nicht enttäuscht. Die Season der Wale war zwar vorbei, aber trotzdem haben wir uns alles angeguckt. Leider war der Platz wo wir übernachten wollten etwas zu frei gelegen und von allen Seiten einsehbar, also sind wir bis zum Nullarbor Roadhouse gefahren und haben es nicht bereut. Allerdings war der Diesel hier am teuersten mit $3,09 per Liter. Egal, es gab viel zu sehen, gutes Essen, sehr lecker in der Bar. Wir haben mit einem Piloten gesprochen, der mit einem Zweisiter Flugzeug von Perth nach Melbourne gereist ist, mit mehreren Stops. Das Flugzeug hat mir sehr dubios ausgesehen, aber er machte das wohl nicht zum ersten Mal. Die Wandgemälde waren toll und wir fanden es richtig gut, dass sie das alte Roadshouse haben stehen lassen. Dort konnte man wirklich sehen wie hart die Zeiten damals waren und die nachfolgenden Generationen können vielleicht ein wenig nachvollziehen, wie es damals war.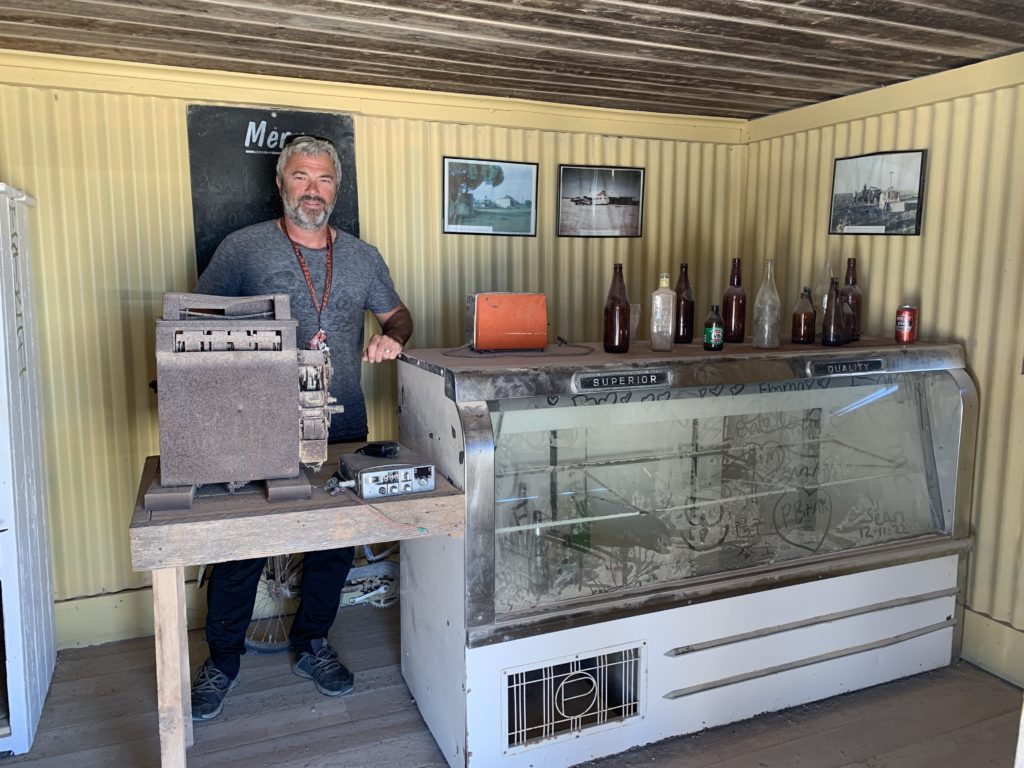 🇦🇺 81. Moving along, we thoroughly enjoyed the drive and it was anything but boring. For our overnight camp we had our sights set on Bunda Cliffs Campground and we even saw the caravans in the distance but as distant as the caravans were, as hidden was the actual path (am not going to call it road) into it. We blinked and missed it. Typical us … not to worry. Next was a scenic Lookout approx. 125 km East of the Border Village and the view totally made up for missing the turn. It was nothing short of sensational. And on we go, Best of the Bight Clifftop Camp Ground on the agenda but remember, it is us ….. missed it again, although in our defence I have to say, we saw it too late and it was sort of on an ankle backwards and there would have been no way to get the van in from the direction we were travelling and no place to turn around…. Oh well, 25 km short of the Border Village we found our camp for the night, on top of a Cliff, 2 other vans there but 300 m spread out. Fantastic views and no regrets. We loved it and thoroughly enjoyed our afternoon/evening in total tranquility. Even though it got a bit cold with the wind in the evening but our mood was on a high.
🇩🇪 81. Weiter ging es, wir haben die Fahrt sehr genossen und es war alles andere als langweilig. Für unser Übernachtungscamp hatten wir den Bunda Cliffs Campground im Visier und wir haben sogar die Wohnwagen in der Ferne gesehen aber so weit wie die Wohnwagen entfernt waren, so verborgen war auch der eigentliche Weg (ich werde ihn nicht Straße nennen) dorthin. Wir blinzelten und haben es verpasst. Das war wieder typisch wir …. egal. Als nächstes war ein malerischer Aussichtspunkt ca. 125 km östlich von der Grenze und die Aussicht hat uns für alles entschädigt. Es war einfach sensational. Und weiter ging es, das Beste der Cliff Top Camp Ground auf dem Programm, aber man erinnert sich, das sind wir ….. wieder verpasst! Aber zu unserer Verteidigung muss ich sagen, dass wir die Einfahrt zu spät gesehen haben und von unserer Fahrtrichtung aus war es unmöglich mit dem Wohnwagen den Winkel nach hinten einzuschlagen und es gab keine Gelegenheit zum Wenden. Na dann …. ca 25 km vor der Grenze haben wir unser Cliff Top Camp gefunden und uns für die Nacht niedergelassen. Auf der Klippe mit nur 2 weiteren Wohnwagen, aber in 300 m Distanz. Super Aussicht und wir haben es nicht bereut. Wir hatten eine super Zeit und haben den Nachmittag und Abend in Ruhe genossen. Auch wenn es abends mit dem Wind etwas kalt wurde, so haben wir uns die Laune nicht vermiesen lassen.
🇦🇺 82. Crossing the border the next day heading towards Norseman for 2 nights rest. The all important Dump Point at the Border Village with a very unfriendly shop assistant barking that there is no drinking water for travellers. The all important Quarantine Check at the Border and a Truck with Explosives pulling up next to us. Talk about scary. I had not fresh fruit and vegetables as "knowledgeable" as one is with the local laws. All onion and garlic was peeled and frozen, potatoes apparently are no problem and could have been carried over. Not a problem, all done and passed. We drove on to a spot where it said Drinking Water. Oh my gosh NOOOOOOO, it was too old broken concrete tanks with a, what looked like a roof once, a tap that was more dirt then tap. We drove on real quick. Then BANG, a truck heading East and coming towards us through a stone and a big one. Second star in the windscreen. Oh man …. we only had it fixed in October in Brisbane. 90 Mile Straight next and the obligatory picture. Luckily we had gummy bears, as we have every day, to pass the time of sorts. We wanted to stay at Caiguna Blow Holes and the Camp Ground was great but there was a dodgy bus as a permanent camp fixture and even though we could drive in for a few km we were eaten alive by March flies when we stopped so we headed out and kept driving. Norseman in sight. We stayed at the Acclaim Gateway Caravan Park where we stayed during another trip and camped out 2 relaxed nights, where we prepared for the next section towards Hyden. But this will be Part 21 and the final chapter.
🇩🇪 82. Am nächsten Tag ging es über die Grenze Richtung Norseman für 2 Tage Entspannung. Der wichtige Entleerungsort für die Toilette und eine unfreundliche Angestellte die uns anbellte, dass es kein Trinkwasser gibt und weiter an den Grenzübergang, wo ein riesiger LKW mit Sprengstoffen neben uns gehalten hat. Das war etwas angsteinflössend. Ich hatte natürlich kein frisches Obst und Gemüse dabei, denn man informiert sich ja über die Quarantänebestimmungen. Zwiebeln und Knoblauch waren geschält und eingefroren. Kartoffeln waren kein Problem und man konnte sie so mitnehmen. Alles gut und wir durften weiterfahren. Sind ja keine Passkontrollen, sondern es geht nur um die Quarantäne. Wir brauchten Trinkwasser, also sind wir zu einem Ort gefahren, wo es hiess, dass es dort welches gäbe. Auweia, NEIN – es waren zwei alte Betontanks, total runtergekommen mit einem, was wohl ein Dach sein sollte und einem Wasserhahn, der nicht als solcher zu identifizieren war. Nichts wie weg und auf einmal BANG, Steinschlag auf die Windschutzscheibe. Ein entgegenkommender LKW hat ihn aufgeschleudert und es war schon der zweite in zwei Wochen und das, nachdem wir in Brisbane im Oktober erst eine neue Scheibe bekommen haben. Dann kam die lange Gerade, 146,6 km nur geradeaus, natürlich haben wir ein Bild gemacht. Lange Fahrt, aber so wie jeden Tag hatten wir selbstverständlich Gummibärchen um die Zeit rumzukriegen. Wir wollten eigentlich an den Caiguna Blow Holes übernachten, aber da stand so ein komischer Bus, der uns etwas eigenartig vorkam und obwohl wir weit reinfahren konnten und es super Stellen gab, waren auch 1 Millionen Bremsen dort. Nein Danke und weiter nach Norseman. Wir wollten in den Acclaim Gateway Caravan Park, wo wir schon einmal waren. Dort wollten wir uns auf die Fahrt nach Hyden vorbereiten, was wir auch taten. 2 angenehme Nächte. Der nächste Teil #21 wir das letzte Kapitel dieser Reise sein.